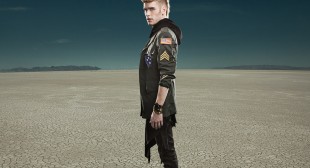 David Molnar's first camera was borrowed from his father for his photography classes as a freshman in high school. Since then, a camera has never left his hands. Growing up on the Outer Banks of North Carolina, the warmth of the sun's first rays and smell of the salty air was as much of a learning tool as it was an inspiration.
David followed a girl to Nashville with the mindset that he would bring her back to a small historic coastal town and live a slow pace of life. However, immediately after arriving in town, David found himself on the sets of shoots with some of Nashville's greatest commercial and entertainment photographers. He assisted Jeremy Cowart, Mark Tucker, Russ Harrington, Kristin Barlowe and others before he was ready to take the reigns and start as a full-time photographer.
Music city has been a fantastic launching pad for David who claims to be a secret "scream the lyrics at the top of his lungs in the car" music lover. With clients like Atlantic Records, Sony BMG, EMI, INO Records and artists such as Skillet, MercyMe, Newsboys, Thousand Foot Krutch, Tricia Brock, Hawk Nelson and more, David has honed his skills in the entertainment world. In addition to the entertainment industry, he is also focusing on advertising campaigns for companies like March of Dimes, Dolby and Centura Health.
Recently, David has been getting back to the natural outdoor beauty that inspired him to begin shooting when his voice was still cracking and the scenes from surf magazines covered his walls from floor to ceiling. Because of his deep faith in living out love like Jesus, David uses his photography to aid in philanthropic work to wipeout hunger, disease, and extreme poverty. He's teamed up with Global Support Mission and their project KnowThinkAct.com, which David utilized to gather funding for a well in Uganda instead of friends and family purchasing him birthday presents. He was able to get his hands muddy and actually help dig the well while in Uganda shooting with Global Support Mission.
CLIENTS: Atlantic Records, Sony BMG, DOLBY, EMI, INO Records, Tooth and Nail Records, InPop Records, Six Steps Records, Passion Conferences, Catalyst Conferences, Q Management Group, The Media Collective, Teen Mania Ministries, Charisma Magazine, Fair Trade Services, HM Magazine, ParentLife Magazine, Centura Health, St. Anthony's Summit Hospital, Summit Cardiology, The Winn Group, Howling Music, Jim Jam Entertainment, MergePR, Global Support Mission, KnowThinkAct, See Spark Go, RipCord and others.