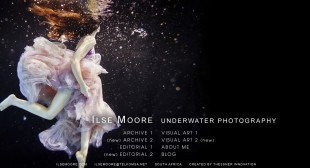 Ilse Moore studied through the University of South Africa and obtained a degree in Visual Arts in 2009. She has been featured in many publications and was apart of the Sasol New Signatures exhibition in 2010.
"While my underwater photography often involves commercial shoots, my conceptual work speaks of a subconscious denial of reality. I have always been attracted to surreal imagery. I believe that photography as a medium lends a kind of realism to these 'fantasies', allowing it to exist in closer relationship to the viewer."
Her underwater photography consists of fashion, fine art as well as commercial photography.