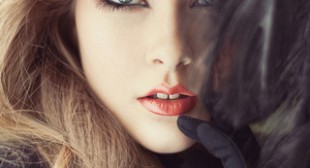 My name is Julia Kuzmenko McKim, and I'm a professional Beauty and Portrait photographer, digital artist and retoucher. I am also an International College of Professional Photography (Melbourne, Australia) graduate, NAPP (National Association of Photoshop Professionals) member, and represented by Aston Models Agency, Beverly Hills, CA (info@astonmodels.com).
It's been about 6 years since I started my wonderful journey into the world of Digital Photography and Retouching. Like many, Photography wasn't the profession I chose right out of school. I spent many years gaining higher education and climbing the career ladder in the financial industry in Moscow, Russia. That's probably the only dull and boring part of my story.
MY STORY
I started traveling when I was 12, and at 19, my quick trip to Egypt changed the course of my life forever. I came back to cold Moscow, packed my bags for a longer trip, bought a one-way ticket back to Hurghada, Egypt, and in 3 weeks I was running around the little resort town looking for a job.
I must say I'm fearless when it comes down to making life-changing decisions, but I never sat and waited for Lady Luck to come knock on my door. You know, "the harder I work, the luckier I get" they say.
EGYPT
I spent 2 years in Egypt, and got to do some amazing things. I was a SCUBA Diving Instructor Assistant for a few months: every day in the Red Sea, diving, snorkeling, swimming with dolphins, feeding the big-lipped Napoleon fish, escaping moray eels. Oh yeah, the mind-blowing Red Sea underwater world!
I was still looking for a better paying job and soon got lucky again! I came to visit the biggest Traveling Agency in Hurghada (which had already turned me down once before) exactly at the time when one of their Russian guides left for home. And that's how I became a tour guide in Egypt at 19. I spent many weeks reading all the books I could get my hands on about Ancient Egypt history. I soon started going to Cairo and Luxor with excursions for Russian tourists as a representative of Cairo Express Travel agency, the largest traveling agency working with Russians in Egypt at the time.
That was another fairy tale period of my life – Cairo and The Pyramids of Giza on Mondays, the ancient temples of Luxor, the singing Colossi of Memnon, Karnak, Valley of the Kings and the Tutankhamun tomb on Thursdays. Every week. It feels like it was a dream now!
It was all great, but also very tiring. We did not have weekends or days off, and by the time I was just about to turn 21, I decided to take a break and go back to Russia to get my higher education. Egypt was so much fun, but I had to think about my future too.
MOSCOW
That's where the blurry, monotonous office plankton life started. I studied Finance & Accounting at the State University of Economics and Statistics for 5 years, while working at the Financial Department of Marriott Hotels of Moscow. I ended up getting a great job at Caterpillar Financial upon my graduation, and in a couple of years another great job at a multi-million dollar Brunswick Rail freight railcar leasing firm. Great pay, great status – I'm a Senior Accountant with a few Accountants reporting to me, but spending 80 hours a week at the office. A dream job after all those years, right?
It wasn't all that bad, of course. I traveled all over Europe visiting Germany, Switzerland, Spain, France, Holland, Belgium, Turkey and Poland. But the everyday life in Moscow was very uninspiring. I bought my first camera in 2006, a Canon 400D, as a creative outlet to release stress. And in a matter of weeks, I was all consumed by my newfound passion! I started buying all sorts of photography equipment, and shooting with anyone who could find the time for me. I'd spend hours browsing through beautiful images on the web, hoping that maybe one day I would learn to take beautiful pictures too.
Interestingly enough, my husband Jason, who was just a friend of a friend and a pen pal back then, was the first and only person to support me and told me to go for it. No one else among my friends and family thought it was a good idea to quit a great and secure job and become a photographer. Crazeeey….
But I did. After a year of shooting on weekends, learning studio lighting, reading all possible books and magazines on photography and Photoshop, I made another life-changing decision: I quit my job and went to Melbourne, Australia to study Photography.
AUSTRALIA
Boy, was it the best time of my life! (Again!) Monday through Friday – it's all about Photography, lighting, models, fellow-photographers. Amazing city, incredible continent, and wonderful Aussie people – can it get any better? Kangaroos, koala bears, and cockatoos in the wild. Port Phillip Bay, Great Ocean Road, Twelve Apostles and the beautiful nature of the state of Victoria. Absolutely fabulous times!
I started marketing my Photography services right away, and pretty soon I was a staff photographer at an international modeling agency, shooting for big and small businesses, and working on CD album covers for famous Australian musicians.
I was born once again in Australia – this time as a photographer and visual artist. Melbourne is my second home, and I am forever in love with Australia and Australians! I was fortunate enough to have met many amazing, beautiful, crazy talented people, and made more friends in 3 years than in my entire life before Australia.